Ep11.3 - Conversation aboard the Tartarus (Final)
Source: TV
Layers: 4
No sketches available
Standard size

No Background

Added 2/28/2011
Updated 5/3/2011

The main is a composite image consisting of four layers.

Douga set of a short sequence featuring Luke, Mieu, Jade, Ion, Anise and Natalia in the Tales of the Abyss anime. The complete sequence begins at 4.08 minutes into Episode 11 while the group is making the decision to travel to Ketterburg.

Even though it only has the back of Jade's head, this is one of my favourite sequences that I own :D The sequence isn't that exceptional otherwise; the additional pages are purely of Luke turning to face Jade, and his subsequent lip movements. Jade, Luke and Mieu each have their own layers, with Ion, Anise and Natalia together on one layer.

I personally love the fill-in expression they gave Natalia here; in the final cut, you can't see her face.

This set came with a very nice genga version of the composited scene, and multiple other scribbles, including layouts, some of which I've uploaded separately.

Animation for this sequence!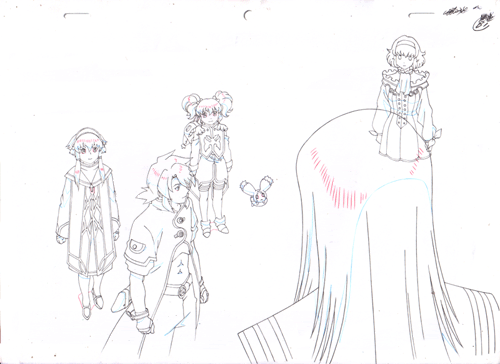 Click to open in new window